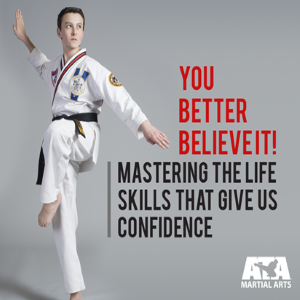 Mastering The Life Skill That Gives Us Confidence
Most people begin to believe in something at a very young age, whether it's a superhero or the monster in the closet.
But as we get older our belief system matures and grows stronger, and we begin to use belief not just as a basis of proof something exists, but as a source of strength that helps us fulfill our responsibilities and achieve our goals.
Belief is one of six new life skills promoted through the ATA's Legacy and Leadership Program. Defined by Merriam-Webster, belief is "a state or habit of mind in which trust or confidence is placed in some person or thing."
Imagine getting through your next Taekwondo tournament or belt test without belief in your abilities, belief in the teachings of your instructor or belief in the support of your friends and family. Belief is having the "Yes I can" attitude always and no matter what.
"I would say that belief is the lifeblood necessary to accomplish your goal," said ATA instructor and school owner Seth Birky. "Belief without a goal is just a wish. That's not going to get you anywhere. But a goal without belief is not going to take you anywhere either."
Birky, 30, and his wife Melanie, 26, are the embodiment of belief at work. They opened their first school in Elkhart, Ind., when he was just 21 and they opened their second in Mishawaka, Ind. two years ago.
The first school now has 450 students and the second has 200, and the Birkys' students have won close to 30 world titles to go with the two forms and one combat weapons World Championship titles Melanie has won the past three years.
Seth and Melanie are 5th Degree Black Belts who will be testing for 6th Degree in a year.
Seth said building belief in others hinges on showing that something, starting a business or winning a championship, can be done.
"It has to do with just knowing that something can be accomplished," Seth Birkey said. "I would equate to the four-minute mile. No one could do it until someone did, and then others could."
Pillar Power
There are seven pillars of belief: trust, consistency, dream, vision, determination, courage and humility.
"You can relate these pillars of belief to every single day in the life of a student," said Sr. Master Jack McInerney, 66, who with his daughter and son owns and operates four New Jersey schools under the banner of ATA Black Belt Academy Inc. in the Old Bridge area of the state.
Pulling out just a couple pillars — courage and consistency — as examples, McInerney noted the everyday value of each. Consistency can mean something as simple and important as a child learning to brush his teeth each day to developing good work habits at school in order to be promoted to the next grade.
And courage, McInerney said, gives a child the perseverance to hammer away at that consistency even when the school workload becomes challenging.
It all ties into one of McInerney's favorite expressions: "I want to be the me that I want to be."
McInerney, a veteran of the ATA Legacy and Leadership Program, was impressed by seminars on the subject conducted by Chief Master Von Schmeling in Orlando, Fla., in October and at the World Expo in Little Rock, Ark. last July.
"I attribute a lot of what we do and a lot of what we have become to him as well as the Grand Masters," McInerney said.
You First
The Legacy and Leadership Program breaks belief into four levels: 1. Belief in ourselves. 2. Belief in others. 3. Belief in society. 4. Belief in the universe.
As Grand Master In Ho Lee explains, one can hardly believe in anything without a belief in oneself. Belief in ourselves is having the confidence to do anything. The ATA Leadership Program Belief booklet points out the strong beliefs possessed by some of history's great leaders and pioneers, from the Wright Brothers to Mother Teresa and notes "If we believe in ourselves, others too will believe in us."
McInerney frequently sees this among the young ATA Tigers at his school and described one such martial artist, a 6-year-old, who stood up before his whole class and motivated them with his words.
"Now that's powerful," McInerney said. "And every parent whose children were not in the [ATA] Leadership program, their mouths dropped open when little Joseph took command."
McInerney noted public speaking is among adults' biggest fears, so to develop the belief in oneself to have the confidence at such a young age can only pay dividends later in life, he said.
"Think what it's going to be worth 20 years from now when those children become CEOs and financial advisers and leaders," McInerney said.
Expanded Universe
Once we've learned to believe in ourselves we can learn to believe in others. We have many people — parents, teachers, instructors and friends — who can positively affect our lives if we believe in them. They shape our ethical and moral values, which become the guidelines by which we live.
The ATA Leadership booklet recommends having a mentor to believe in in each of the eight basic areas of personal development: health, family, education, career, finances, social, fun and spirituality.
"One of the things we teach our Leadership students is the law of averages where a person is the average of the five people they hang around with the most," Seth Birky said. "[It is] the importance of having people around you to support your belief and take your belief higher."
Belief in society is learned from the culture we live in. Society and culture also help to further shape our moral and ethical values. The world has always been an uncertain place, and society can potentially offer many limiting beliefs in our surroundings, but, the booklet notes, there are also many empowering ones and it is important to learn to reject the limiting ones — say the temptations of drugs and alcohol — for the empowering beliefs that make us better, things like the custom of keeping our word, religious faith or cultural heritage.
Sometimes, we might feel that life is treating us unfairly, but if we have established a belief in the universe we understand that it is always fair no matter how things seem.
To do so is to realize the universe is not about you, but that your are an important part of the universe, which functions through a set of rules that, when understood, will help us to also understand the natural results of our attitudes, thoughts and actions.
Pillars of Belief
Trust — Firm reliance on the integrity, ability or character of a person or thing.

Consistency — The ability to maintain a particular standard or repeat a particular task with minimal variation.

Dream — A cherished ambition or ideal.

Vision — The ability to imagine how a country, society, industry, etc. could develop in the future and to plan in a suitable way.

Determination — Firmness of purpose; resolve.

Courage — Quality of being brave; the ability to face danger, difficulty, uncertainty or pain without being overcome by fear or being deflected from a chosen course of action.

Humility — The state or quality of being humble; freedom from pride and arrogance.
Written by Todd Traub. Originally published in Vol. 23 no. 1 of the ATA World Magazine.
March 19, 2018 
PREPARE FOR SPRING NATIONALS!
ALL AGES, ALL RANKS, ALL DIVISIONS WELCOME!
Spring Nationals will take place in Dallas, TX
at the Kay Bailey Hutchison Convention Center.
March 27-30, 2024