Welcome Back, Chief Master Tammy Harvey-Stauber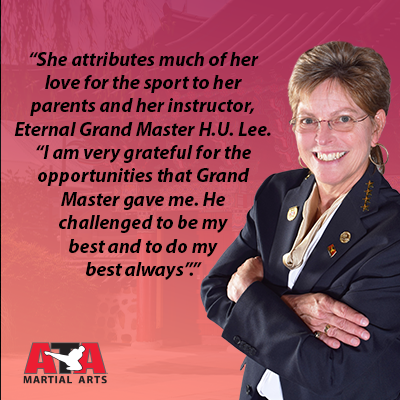 Chief Master Tammy Harvey-Stauber once said, "No matter how hard something is, you can do it." And thus, she did, by becoming the first female school owner in the ATA organization in 1978, followed by first female Master in the ATA in 1994, and then ATA Hall of Famer in 1996. Along with many accolades, Chief Master Harvey-Stauber has paved the way for others to follow.
Her passion for Taekwondo started at the young age of 12, when after taking her first class, she fell in love with the sport—dedicating her summers at school to train. She even assisted her instructor in starting one of the first children's programs. At Instructor's camps, she would often be the only female in attendance. However, that didn't stop her. "I think I was an encouragement for men and women because the women could identify with me and the men could say, 'If a girl can do it, I can do it,'" she said.
She attributes much of her love for the sport to her parents and her instructor, Eternal Grand Master H. U. Lee. "I am very grateful for the opportunities that Grand Master gave me. He challenged to be my best and to do my best always."
By 1977, Chief Master Harvey-Stauber became the youngest person (16 years old) to be a certified instructor in ATA. During that time, she taught at ATA Headquarters' school, eventually opening her own, Benton Karate Academy. She continued to dominate in the martial arts world by becoming Regional Instructor of the Year in 1989 and opening pilot schools ATA Karate for Kids in both Little Rock and North Little Rock, Arkansas.
She was the only women to compete in the 1990 Men's 5th Degree Division and earn her 5th degree black belt; she earned her 6th degree black belt in 1993, and shortly after, she scaled the ladder to Master status. She honored that title by installing greatness into every student she taught. She advised all her students to:
"Train. Once you learn a technique, kick, or form, it doesn't stop there. Continue to practice over and over.
Always keep a positive attitude. No matter how hard something is, you can do it!
Never give up! Always keep going. Don't be afraid to ask for help if you need it."
Chief Master Harvey-Stauber remained active with ATA until the passing of Eternal Grand Master H. U. Lee, who was a big inspiration to her. Even after her disengagement from ATA she continued teaching taekwondo, attended Worlds every year, and never joined another organization.
Chief Master Harvey-Stauber is welcomed back with opened arms and will serve as an excellent advocate for all women in the ATA organization.
Check out Chief Master Harvey-Stauber testing for her 5th degree black belt with Grand Master M.K. lee! 
Written by ATA Staff
October 17, 2021 
PREPARE FOR SPRING NATIONALS!
ALL AGES, ALL RANKS, ALL DIVISIONS WELCOME!
Spring Nationals will take place in Dallas, TX
at the Kay Bailey Hutchison Convention Center.
March 27-30, 2024