Tweak Your Summer Taekwondo Training with These Tips
Whether you're driving three hours across the state to Districts or flying five hours across the country for the World Expo— traveling can be stressful.  And add a few kids, lots of Taekwondo gear and all other necessities to the equation and you've just compounded the stress even more. 
Trips are a great way to get away from the hustle and bustle of everyday life, but let's face it, preparing for these getaways is enough to make you want to pull your hair out.
There is a silver lining though.  With a little preparation and organization, families can actually enjoy their time away from home and focus on putting their best foot forward in that upcoming ATA tournament.
An Early Start
Even though your beach trip or tournament may be a week away, it's a good time to start prepping for the journey. In her HuffingtonPost.ca article "10 Packing Tips for Traveling Families," Nancy Polanco writes that when it comes to preparing for the next trip, think planning ahead.  Polanco recommends parents of little ones get a head start on laundry and map out outfits for each day of the trip, including pajamas. 
For families planning for an out-of-town Taekwondo tournament, it is important to have a gear checklist that itemizes everything needed for a successful competition. 
Here is a gear checklist to keep handy, but remember you can personalize your list with your martial arts needs: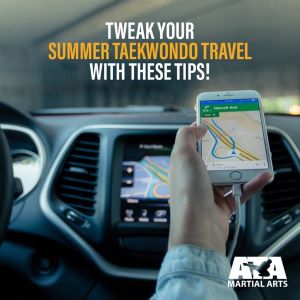 Your cleanly pressed uniform(s) with your belt; don't forget your WHITE undershirt if you are wearing one

Sparring gear- head gear with face shield, foot and hand gear, chest protector, mouthpiece, protective cup for boys, and any shin or forearm gear you prefer

Training tools such as weapons or combat weapons

Whatever music device you are using for creative or Xtreme (don't forget the cords for everything!)

Water bottle and snacks

Cleaning agents such as stain sticks

Registration forms
When getting clothes and gear ready, it's also a good idea to lay out luggage in advance, so there won't be a last-minute search around the house, Polanco writes.
Keep it Simple
One of the biggest rules of traveling is leaving extra baggage at the door— that is packing light and making sure all of the important stuff (IDs, passports, keys, hotel accommodations, etc.) is not only easily accessible, but safe and secure, preferably in a carry-on or handbag. 
To help make things a little easier on the travel experience, here are some other things to remember to pack:
Chargers to go with all of your gadgets; for families, Polanco suggests getting a cable wrap that stores everyone's cables and plugs in one central spot

Headphones

Camera in a travel bag

Travel-sized toiletries and your medications— no need for added weight in your luggage!

And snacks for the road!
Have Fun
They say it's not about the destination, but the journey.  Make sure it's a fun and adventurous one with the kiddos by having plenty of activities ready.
Keep clever travel games on hand and even make a travel binder full of easily portable projects and car-related activities, suggests Keri Snyder in her article "Traveling with Kids Hacks" on YourModernFamily.com.  She also recommends having audiobooks to play during long trips and having fun games like travel-sized board games in which the whole family can join.
For the older kids, electronics like iPads and smartphones are entertainment centers of their own with movies, eBooks, games, music and more at their disposal.  Just remember to charge them up before you hit the road or take flight!
Make Memories
You want to remember all of the fun you had on your trip and the big accomplishments, right?  That's why it's such a great idea to not only have your camera charged and ready to go, but also to keep a journal.
In "The 7 Fundamentals of Documenting Your Travels," MatadorNetwork.com writer Kate Siobhan Mulligan recommends taking note of all places visited, people met, and to note all of the good food and cool facts as you come across them.
Something else you can do is keep a scrapbook. And we're not talking about the conventional or traditional kind of bound scrapbooks.  This could be a folder or even a plastic bag in which you can store tickets, business cards or any other mementos worth keeping, Mulligan says
At the end of the day, exploring different places in your state, in another state or even another country is an adventure and getting there is half the fun. Enjoy the experience!
Healthy Travel Snacks for Kids
When traveling, reaching for those sugary, high calorie snacks like chocolate bars, candy and sweet treats is easiest, but it's not necessarily the healthiest.  It's always a good idea to have alternatives that are just as easy to carry, but are packed with nutrients and flavor.  Here are some healthy options:
Low sugar, high fiber granola bars

String cheese

Fruit mix (grapes, pineapple, strawberries, etc.)

Apple sauce cups

Hummus with carrots, celery sticks and red pepper slices

Peanut butter and banana sandwiches
Written by Lauren James. Source: "The 10 Best Travel Snacks for Kids" on Parents.com
May 14, 2018
PREPARE FOR SPRING NATIONALS!
ALL AGES, ALL RANKS, ALL DIVISIONS WELCOME!
Spring Nationals will take place in Dallas, TX
at the Kay Bailey Hutchison Convention Center.
March 27-30, 2024