Rohan Verwey: Making History in South Africa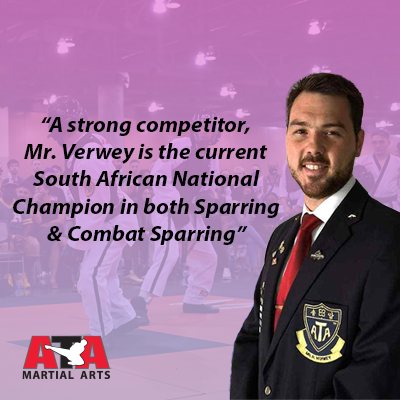 There are big things happening worldwide in the ATA! One of those things is the awarding of 6th Degree Black Belt to Mr. Rohan Verwey of Bloemfontein, South Africa!
Mr. Verwey was born January 6, 1992. He began his journey in the ATA in June of 1998 in Secunda, South Africa under the instruction of Mr. Johann Beukes. He currently trains under the expert instruction of Master Jesse Isaacs, no small feat considering the distance between himself and his Instructor! 
Rohan Verwey earned his 1st Degree Black Belt in June of 2001 and became the youngest 4th Degree Black Belt in South Africa at the age of 16. He earned his Instructor Certification in January of 2012 and continued to grow as he opened his first school in April of 2016.
A strong competitor, Mr. Verwey participated in his first tournament as a yellow belt at the age of 7 and his first World Championships at age 15 in 2007. He has been the South African National Team Captain from 2015 to 2018. He has placed as high as 2nd in Sparring at the 2018 World's Tournament Season Kickoff Event. Mr. Verwey is the current South African National Champion in both Sparring and Combat Sparring. 
As a School Owner and member of the ATA in South Africa, he held a number of important positions within the leadership. He held the position of Chairman of ATA Free State South Africa in 2016 and is the current Chairman of ATA Free State and ATA South Africa. 
Mr. Verwey had the privilege of sounding the gong at the 2015 Masters' Ceremony; he looks forward to having the gong sounded for him in the near future.  
Congratulations to Mr. Rohan Verwey, 6th Degree Black Belt from South Africa!
Written by Brian Myers 
October 14, 2021 
PREPARE FOR SPRING NATIONALS!
ALL AGES, ALL RANKS, ALL DIVISIONS WELCOME!
Spring Nationals will take place in Dallas, TX
at the Kay Bailey Hutchison Convention Center.
March 27-30, 2024