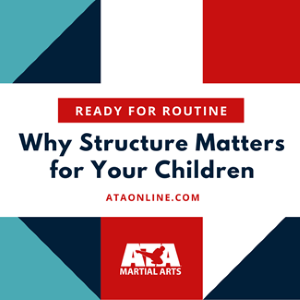 Why Structure Matters for Your Children
Just imagine a world without a regimen.  While life does throw curveballs every once in a while, picture a life where every day is different and there is no rhythm or order—everything is uncertain.  Luckily, adults can manage the life they live day to day, but children do not have that kind of control just yet.  That's why creating a routine, with Taekwondo in the mix, is an essential part of a secure environment where kids have things to look forward to.
Nothing But Positives
Do you have a daily routine?  If you do, there is a good chance that there is more structure and less chaos in your life. 
The same goes for children.  When they have a framework each day, everything seems to fall into place-- no power struggles, a heightened level of cooperation, and so on.
There are many benefits to having a set routine with your kiddos, like reducing stress and anxiety and enhancing kids' ability to take charge of their own activities.
In her article "Structure:  Why Kids Need Routines," Dr. Laura Markham, clinical psychologist and founding editor of AhaParenting.com, writes that this control over kids' daily activities "increases their sense of mastery and competence" and in the long run, "kids who feel more independent and in charge of themselves have less need to rebel and be oppositional."
Taekwondo is an activity that helps establish a routine and level of discipline and respect that can help give your family a more well-rounded environment. For the busy O'Neills, an ATA family that trains at ATA Martial Arts in Bentonville, Ark., having a routine has been critical to keeping everything in line.
"Our boys know what to expect each day—it ensures that we have time to get everything done that we need to get done," said mom Kim, a 3rd Degree Black Belt.  "All four of us have been in Taekwondo at some time and we always set goals for how many classes we want to reach each week.  Having a routine helps us achieve that goal.  It keeps us efficient."
Operation: Routine 
School, Taekwondo and other sports, social time with friends, homework…kids have a LOT going on throughout the year!  So, how can you establish a routine that will get the children on a good schedule and create a healthy environment for the family?
In the article "Creating An Easy Rhythm and Adding Simple Routines to Your Home" on SimpleKids.net, there are a few tips to get started:
Keep it simple. Pick an element and add it to your routine.  Decide what your top priority is and focus on adding that into your schedule before something else."

Stay flexible. Make changes if things aren't working right.  By keeping your flexibility, you can play around with your schedule until you find the perfect fit.

Lower your expectations. Evaluate what is essential in your life and eliminate unnecessary steps.  In other words, take out the extra steps and keep things basic.

Make it personal. The rhythm of your family is not going to look exactly like that of other families and that's okay.  Every family's routine is going to be personal and differ from another's.  What's important is that what you do works for you!

Stay a step ahead. Once you know what works, do your homework to make it easier to follow your routines. 
The article also stresses doing what is right for your family stating, "Some family routines are more structured [while] some are more free-form, but both types of schedules provide value to the kids who count on them to find comfort in their familiarity."
Taekwondo for the WIN!
O'Neill explains that adding Taekwondo into the mix of your routine actually has a lot of rewards.  It also has helped her family gain a lifetime of benefit, more than from any other sport the family members have tried.
"First and foremost is respect and discipline.  Self-confidence, accountability and physical fitness are at the top of the list as well," she said.  "Each of these life skills that have been taught have provided tangible benefits for all of us."
Written by Lauren James. Originally published in Vol. 22 no. 3 of the ATA World Magazine.
Feb. 26, 2018 
PREPARE FOR SPRING NATIONALS!
ALL AGES, ALL RANKS, ALL DIVISIONS WELCOME!
Spring Nationals will take place in Dallas, TX
at the Kay Bailey Hutchison Convention Center.
March 27-30, 2024