Meet ATA's First Indian Woman Master Nominee
ATA International has been creating leaders and instilling the power of traditional Songahm Taekwondo curriculum and philosophy for several decades. The ability to shape and mold people's lives in a positive way has significantly contributed to the success of ATA Martial Arts members throughout the organization and beyond. That same power has helped shape the life of Anjali Vallury, who is set to become ATA's first Indian woman Master this Saturday, November 5th at the 2022 Masters' Ceremony in Little Rock, AR.
Master Nominee Anjali Vallury was born in Virginia and then raised in Raleigh, NC. She began her training in the ATA at her home school of Vision Martial Arts during October of 1995 at the young age of 6. She explained that "growing up, there were very few Indians that participated in martial arts, let alone dared to choose it as a career." That did not turn her away, in fact, it inspired her to turn her passion into a career and lifelong journey.
Martial Arts became a way for Master Anjali Vallury to maintain balance in life.  She learned to adapt to different scenarios, stay grounded when life throws you curveballs, and to take every experience and interaction as a learning opportunity.  Under the instruction of Chief Master Michael Wegmann, she learned to consistently strive for growth and improvement. "His way of coaching has given me the ability to positively impact our community through Songahm Taekwondo". Some other notable Instructors she has had the pleasure of training with and learning from are Chief Master Kowkabany and Chief Masters Mark and Barbara Sustaire. Her involvement with the ATA has provided her with the opportunity to build a network of close friendships; from the Sustaire family to Senior Master and Mrs. Beddow, Master Alicia Tavani, and the countless Instructors and students she has met over the years. It is their love and support that has inspired her throughout her martial arts career. "I'm so grateful for your love and support.  You've inspired me more than words could ever articulate. Thank you for believing in me."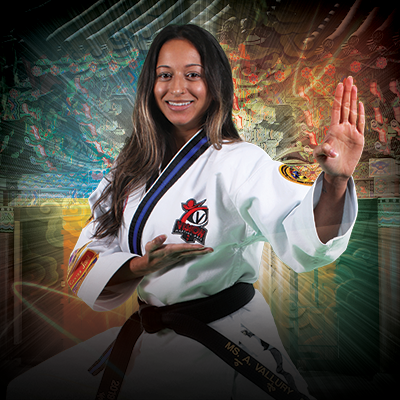 Even with 27 years of martial arts experience, embodying the title of Songahm Master was no small feat. Master Nominee Anjali Vallury never sought out the road to mastership. "I dabbled with the idea of becoming a Master for quite some time because I have such high regard for the title and responsibility". Holding the title of Songahm Master holds you accountable to encourage, inspire, and empower future students to be the best possible leaders they can be. It was her 4-year-old daughter that ultimately influenced her decision. "I noticed how impactful it was for my daughter to see me pursue my passions. This solidified that ATA would be a part of my past, present, and future". Becoming a Master also meant that she would be able to have a grounding impact in the South Asian community as her roots hail from Hyderabad, India. Now days away from making it all official, she says it has been an eye-opening, humbling, and surreal journey. "Having this accomplishment is a true testament that being strong is beautiful."
Mother, Marketing Manager, and soon to be Master, Anjali Vallury is proof that if you believe it, you can achieve it. Her advice to the next generation of Masters? "Take the time to figure out what being a Master means to you and visualize how you see yourself impacting our organization. Everyone is blessed with unique 'superpowers'. How can you use your unique abilities to positively impact the world?"
Thank you, Master Nominee Anjali Vallury for being an inspiration to us all and for continuing to on the path that Eternal Grand Master paved for us.
Join us in celebrating our 2022 Master Class. The Ceremony will be livestreamed on the ATA Martial Arts website and can be found HERE.
PREPARE FOR FALL NATIONALS!
WE'RE BACK IN THE BURGH!
Fall Nationals will take place in Pittsburgh, PA
at the David L. Lawrence Convention Center.
October 18-21, 2023