ATA Brand Ambassador
Riley Ketcham
They say inspiration can come from anywhere…for Riley Ketcham her desire to become a martial artist came while she was attending a birthday party. Just one demonstration and she immediately fell in love with the sport.
Now Riley cherishes everything about martial arts, from training to the pure thrill of competing. Such passion has won her State Champ in Traditional Forms and Weapons XMC Forms and Creative Weapons, and District Champ for XMC Forms. It has even given her the confidence to face tough challenges, like competing against someone three times her size. "Tho she be but little, she is fierce," she proclaims.
Riley is a 1st Degree Black Belt who isn't afraid to go after what she wants. She especially wants to be a powerful athlete like Simone Biles, one of her biggest role models. The road to becoming a powerful athlete for her means weekly training with her instructors, Mr. and Mrs. Baez, private tumbling lessons, and using her favorite Life Skill, Honesty.
She trains at ATA Top Leaders in Jonesboro, AR where she shows off her talented skills each and every time she's out on the mat.
A little more about Riley:
Favorite Food: Lamb chops
Favorite Movie: Ernest Green Story
Coolest Place Ever Been: Disney
If She Could Have Any Superpower Invisibility
Hobbies Outside of Martial Arts: Gymnastics, Acting
Most Proud Of: Achieving her black belt
Dream Job: Actor or Teacher
Favorite singer: Taylor Swift
What City Would She Love to Live In: Paris
Favorite holiday: Thanksgiving
Biggest Inspiration: Mom and Dad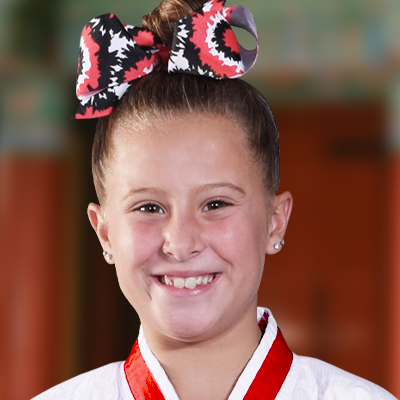 PREPARE FOR SPRING NATIONALS!
ALL AGES, ALL RANKS, ALL DIVISIONS WELCOME!
Spring Nationals will take place in Dallas, TX
at the Kay Bailey Hutchison Convention Center.
March 27-30, 2024