Meet Our Newest ATA Brand Ambassadors
We are delighted to announce our newest ATA Brand Ambassadors, Aishani Patel and Augustus Artis.
Aishani and Augustus are passionate martial artists who possess the influential lifestyle and values we have built around the ATA Organization. They are energetic, hard-working, and outgoing, with a strong engagement in a variety of social organizations in their ATA school. Through the program, Aishani and Augustus will receive developmental tools and experiences, try out our products, and help us stay engaged with ATA students worldwide. We believe their leadership skills and positive spirits will make a difference in our communities and beyond.
Aishani and Augustus joins a diverse and accomplished group of martial artists, including current Brand Ambassadors Master Michael Bennett, Master Alicia Tavani, Krista Kaminski, Iliana Garcia, Brandon Johnson, Ethan Fineshriber, Brandon Young, Channah Zeitung, Riley Ketcham, and Nolan Winking.
Meet Aishani:
Aishani is a 17-year-old 3rd degree black belt that trains at Vision Martial Arts under Chief Master Michael Wegmann. She is excited to be a Brand Ambassador so that she can share her love for taekwondo with other people and show them just how martial arts can become a huge part of their life like it is for her. Her favorite food is ice cream and if she could have a superpower it would be telekinesis (ability to move objects at a distance by mental power or other nonphysical means).
Meet Augustus:
Augustus is a 5-year-old Tiger that trains at ATA Martial Arts – Bentonville under Senior Master Matthew Blomquist. He can't wait to teach others martial arts and be a leader in his community. Most importantly, being a leader to him means that people can lean on him in times of need. His favorite holiday is Christmas, and he wants to be an astronaut when he grows up.
We look forward to their future endeavors and contributions in our ATA Family.
Written by ATA Staff
December 1, 2021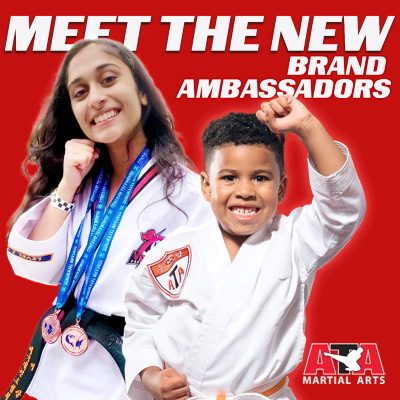 PREPARE FOR FALL NATIONALS!
WE'RE BACK IN THE BURGH!
Fall Nationals will take place in Pittsburgh, PA
at the David L. Lawrence Convention Center.
October 18-21, 2023